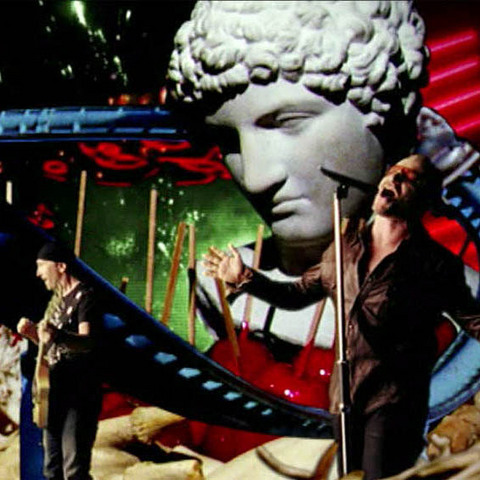 Hola Amigos, empiezo una serie de post con los playlist de las bandas y artistas que mas escucho por el momento, hoy empiezo con una banda que siempre me ha gustado desde que tengo razón de mente por la música. Que disfruten de este post...
:: U210 News
:: U210 Video: Magnificent Live
:: U210 Playlist
>I'll Go Crazy If I Don't Go Crazy Tonight
>Magnificent
>Get On Your Boots
>City of blinding lights
>Original of the species
>Sometimes You Can't Make It on Your Own
>The Ground Beneath Her Feet
>Walk On
>Electrical storm
>Please
>Stay (Far away so close!)
>Until The End Of The World
>Sweetest Thing
>Last Night On Earth
>I Still Haven't Found What I'm Looking For
>With or Without You

:: U210 Essentials
U2 formed in 1978 after Larry Mullen pinned a 'musicians wanted' ad to the notice board at Dublin's Temple Mount School. Adam Clayton had discovered rock'n'roll as a thirteen year old, buying his first acoustic guitar and then talking his parents into buying him a bass guitar. 'It just sounded good to me. Deep and fat and satisfying.'

From the beginning, U2 were marked out by their passion. "A band before we could play" was how Bono put it in early interviews. Edge remembers reading UK music papers NME and Sounds every week and then hearing about this 'wild kid called Paul Hewson.'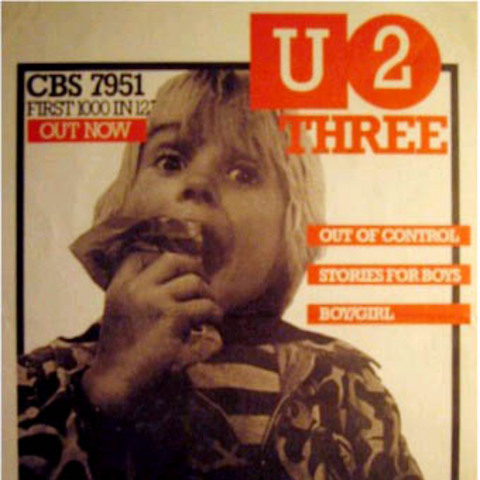 The four teenagers, who initially called themselves 'Feedback', rehearsed in Larry's Dublin kitchen, Bono on vocals, The Edge on guitar, Adam Clayton and Larry making up the rhythm section of bass and drums. Inspired by punk, but insulated from the standoffish cool by the Irish Sea, Feedback had become 'The Hype' and then 'U2' and were soon building a local reputation based on the passion of their performances.
'I suppose a watershed moment would have been seeing The Jam on Top of the Pops, 'remembers `Edge. 'And realizing that actually not knowing how to play was not a problem... music was more about energy and trying to say something and not necessarily about great musicianship.'

After a brief period being managed by Adam, they had met up with Paul McGuinness but an early Irish release in 1979, the 'U23' EP on CBS, proved a one-off. They would wait until the following year to sign a long-term deal with Chris Blackwell's Island Records. 'I was amazed at the quality and talent and ambition of these four musicians and yet we couldn't get a record deal.'recalls McGuinness. 'Everyone in the world passed on U2 before we finally found a home at Island Records.'

U2's first single, 11 O'Clock Tick-Tock, was released in May 1980. Boy, their debut album, was released five months later - promoted by another single, I Will Follow , October, a year later and by May 1983, they had their first UK number 1 album with War, culmination of a trio of albums produced by Steve Lillywhite.


War featured hit singles New Year's Day (the video shot in the snow in sub-zero Sweden) and Two Hearts Beat As One while the live album Under A Blood Red Sky released that November, cracked the US Billboard Top 30. It was also the end of a chapter for the band and the beginning of a quarter century of studio collaboration with Brian Eno and Daniel Lanois. The Unforgettable Fire, recorded in a the ballroom of Ireland's Slane Castle, spawned one of U2's most iconic tracks in Pride (In The Name of Love) ... as well as a whole lot more experimentation. 'In America there was such a backlash when we put out The Unforgettable Fire,' remembers Bono. 'People thought we were the future of rock'n'roll and they went, 'What are you doin' with this doggone hippie Eno album?' 'We owe Eno and Lanois so much for seeing through to the heart of U2.'

Three years before the band had played support to Thin Lizzy at the annual Slane outdoor show. Seventeen years later, now established as the pre-eminent live act in rock'n'roll, they would return to play two sell-out shows themselves, later released on a live DVD, U2 Go Home'.

Back in the 1980's, the nine-month tour following the release of 'The Unforgettable Fire' took in 54 US dates and led to the band's unforgettable appearance at Live Aid in July 1985. 'In the middle of Bad he went on a wander trying to pick out some girls to dance with,' remembers Larry. 'It felt like he was gone for ever. We were quite jittery as it was and when Bono went missing, a certain panic ensued.'

They didn't realize it at the time but it was a set that would alert a whole new audience to their music but it was another two years before the band released, The Joshua Tree in 1987, the original working title of which was 'The Two Americas'. If the constant touring had seen the US hypnotise U2, America was about to return the compliment - the singles With Or Without You and the gospel-flavoured I Still Haven't Found What I'm Looking For, went to the very top of the US singles chart.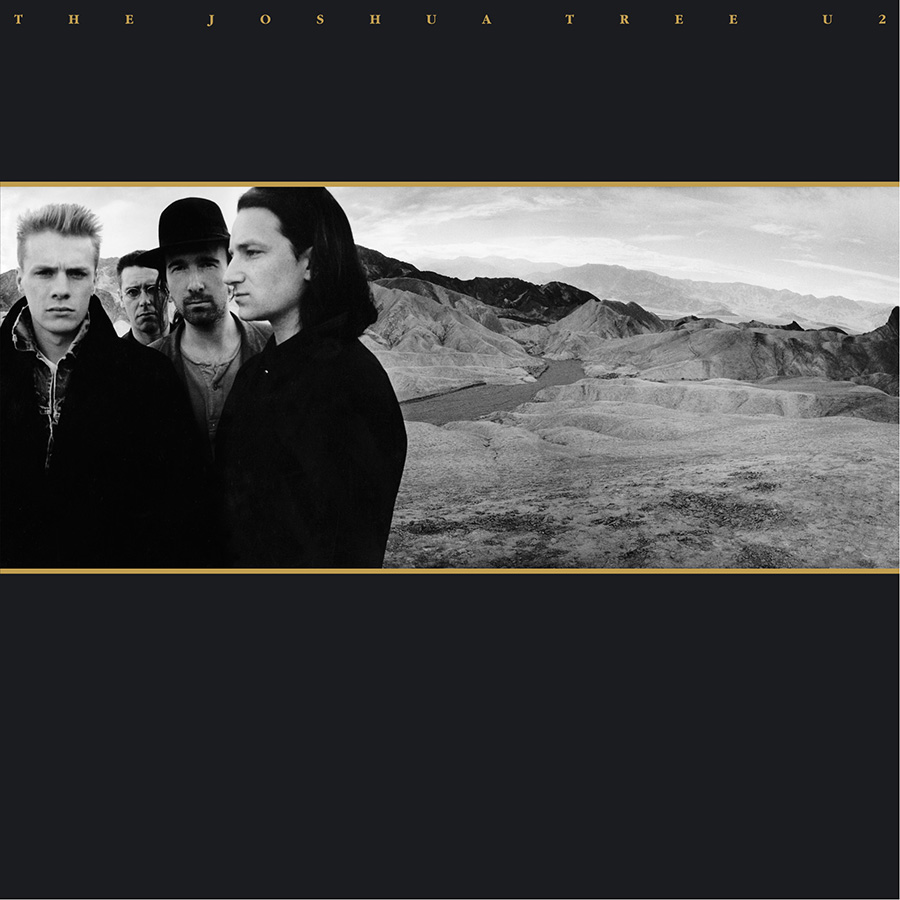 The Joshua Tree went on to sell more than 20 million copies and at the 1987 Grammy Awards, won the band 'Album Of The Year' and 'Best Rock Performance', the first of what has become a record-breaking run of Grammy wins. In 2007 a remastered version of the album was released to mark the 20th anniversary of its original release and in their book, 'U2byU2' the band talked in detail about how many of the songs came together. At the 1987 Grammy Awards, U2 won Album Of The Year and Best Rock Performance for The Joshua Tree, their first Grammy Award wins.

When Time Magazine put the band on its cover with the headline "Rock's Hottest Ticket", it was only the fourth time a band had made it to the cover - following The Beatles, The Band and The Who.

A year later, in 1988, U2 topped the British single charts and released in theatres the live concert movie 'Rattle & Hum' which chronicled the US leg of the 1987 Joshua Tree tour. The double album Rattle and Hum' featured the number 1 single, Desire and a collaboration with BB King, 'When Love Comes To Town'. The band finished their 1989 Lovetown Tour with a series of late December shows at The Point Depot in Dublin when Bono announced that '...this is the end of something for U2...we have to go away and ... and dream it all up again.'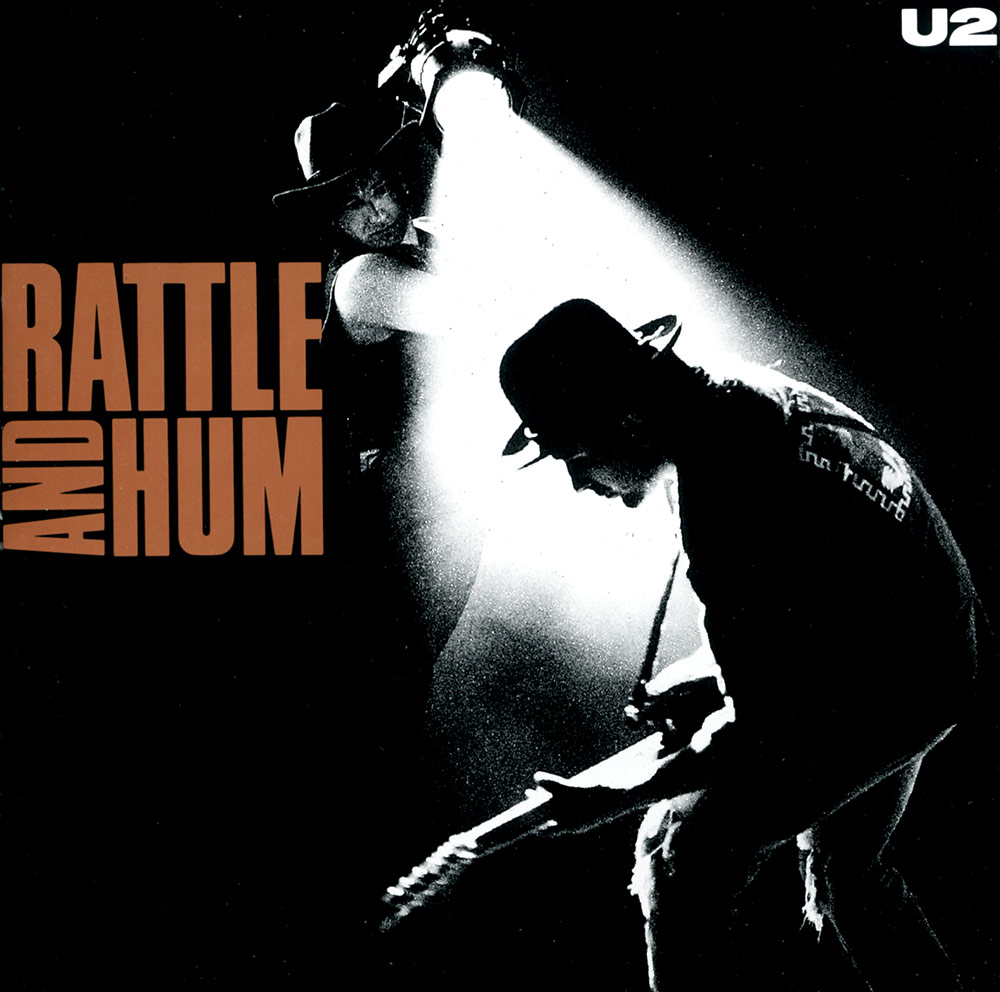 They did too, going away to Hansa Studios in Berlin with Brian Eno and Daniel Lanois and dreaming up an album called Achtung Baby which took their music in a whole new direction. Band and production team had clashed over the direction they should be taking but out of this turmoil came one of their most acclaimed albums ever. As Daniel Lanois put it, 'If you manage to get the four of them in one room with instruments in their hands you're going to get results. That has a lot to do with my job - just getting them in the room and playing.' With The Fly, Mysterious Ways, and One U2 began the nineties with a new sound, a new reputation on the dancefloor and a series of their biggest hits.

The subsequent Zoo TV tour opened in Florida on February 29 1992 and circumnavigated the globe twice in almost two years before ending in Japan on December 10 1993. Achtung Baby had proved a groundbreaking album and production designer Willie Williams set about reinventing the rock tour with help from a 130-foot video wall juxtaposing 24-hour hard news, shopping channel ephemera and postmodern slogans to ramp up the irony levels. ("EVERYTHING YOU KNOW IS WRONG"). Guest appearances featured Lou Reed, Salman Rushdie (while in hiding in the aftermath of publication of The Satanic Verses) and Benny Andersson and Bjorn Ulvaeus of ABBA, who performed 'Dancing Queen' with the band. Still can't imagine what it looked like ? This is what it looked like. It being the run up to the 1992 American Presidential Election, Bono interrupted the set list to make satellite calls to the Bush White House. He never did get through to then President George Bush - little did anyone know that within a few years Presidents and politicians would be taking those calls - but via the ZOO TV satellite link he also called into war-torn Sarajevo, hearing the voices of a city under siege thanks to the maverick journalist Bill Carter.

In the middle of Zoo's European leg the band recorded a whole album, the haunting and experimental Zooropa (1993) featuring lead vocals from Johnny Cash on the final track The Wanderer. The Zoo stop in Sydney was later digitally remastered and released on DVD,
' Zoo TV Live From Sydney'.

The Sarajevo connection inspired one of the tracks on Passengers: Original Soundtracks Volume I, the most experimental album the band had collaborated on - unsurprisingly with Brian Eno at the heart of the mix. 'Miss Sarajevo' featured a star turn by Luciano Pavarotti. Crowning this heady period, Pop (1997) cloaked its heavy lyrical payload in state-of-the-art dance rhythms, a creative collusion with DJ Howie B. 'The themes are love, desire and faith in crisis,' explained Edge. 'The usual stuff.'

The resulting tour, POPMART - which saw the band become the first major act to perform in Sarajevo after the Bosnian War - was another visual spectacle imagined by Willie Williams introduced the rave-rock of Mofo and Discotheque to a new generation of fans.

It was four years before another album, but it was worth the wait: All That You Can't Leave Behind features songs which went on to win 'Record of the Year' Grammy Awards in two consecutive years - 'Beautiful Day' in 2001 and 'Walk On' in 2002 - the only time this has ever happened. Released in 2000, ATYCLB went on to win seven Grammys and sell more than ten million copies worldwide. 'I think it was a very good idea to make a record that actually sounded like U2 again...' explained Paul McGuinness. 'It went to No.1 in 32 countries.'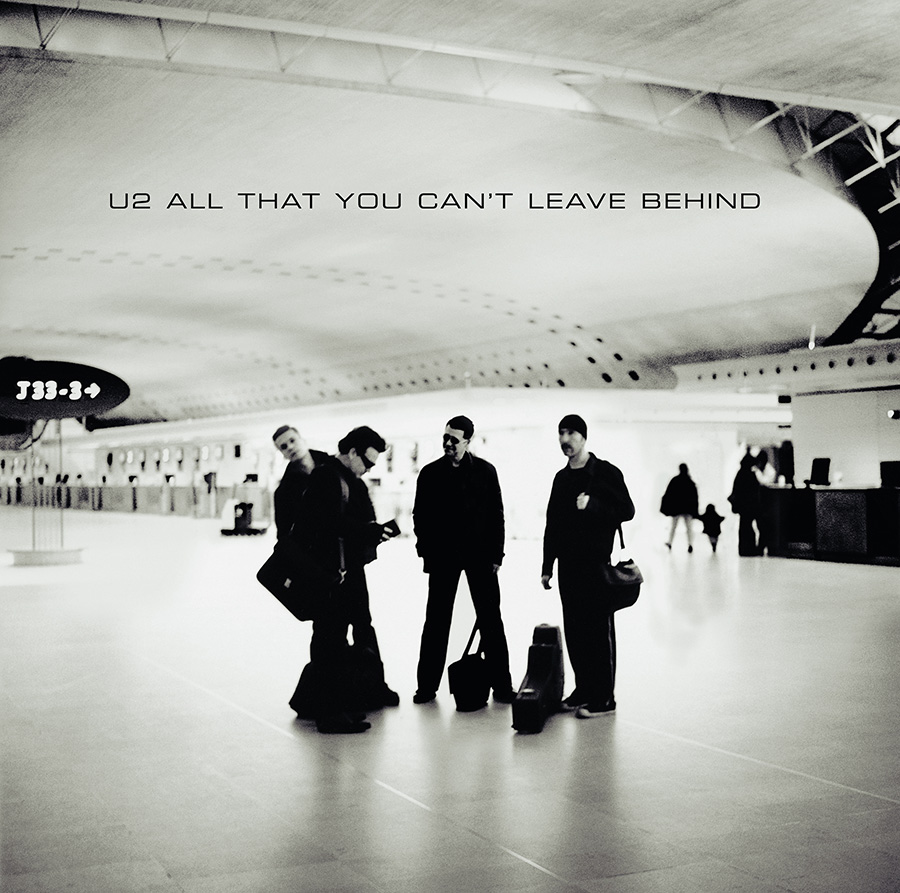 It was followed by the 113-date Elevation Tour, a similarly stripped-back approach, with the focus firmly on the songs. 'It wasn't really minimalist,' says Edge. 'But compared to POP anything would seem back to basics.' It was the design that grabbed Larry: 'The use of the heart as a runway to get out into the audience and the way the heart itself filled with people, was great. It was almost like a club gig within an arena.'

How To Dismantle An Atomic Bomb (2004) was "very much a guitar record," explained Adam. "Vertigo, Love and Peace, City of Blinding Lights, All Because of You, all pretty up , rocky tunes. A lot of them are a kick-back to our very early days, so it's like with each year we have gathered a little bit more and this is what we are now.' Recorded with both new and old producers - Steve Lillywhite, Chris Thomas, Flood, Jacknife Lee, Brian Eno, Daniel Lanois, Nellee Hooper and Carl Glanville worked on the album - U2's eleventh studio record from was released in November 2004, debuted at at Number 1 in 25 countries and the lead single Vertigo won three Grammy awards, including Best Rock Song. The Vertigo tour which followed was the highest grossing tour of the year and with the album confirmed U2 as "the greatest rock and roll band in the world." During 2005 U2 played to more than 3.2 million people. In March Bruce Springsteen inducted the band into the Rock'n'Roll Hall of Fame, describing them as 'the keepers of some of the most beautiful sonic architecture in the rock-and-roll world," said rocker Bruce Springsteen while inducting U2.' And then there was Live 8, beamed live to half the planet, and opening up with U2 performing Sgt Pepper's Lonely Hearts Club Band with Paul McCartney. At the 2006 Grammy ceremony, U2 took home 5 Awards, including the coveted Album of the Year for HTDAAB. These new wins brought their total number of Grammy Awards to 22, more than any other band.

While spending a month recording at Abbey Road Studios London in 2006, U2 collaborated with Green Day to record a cover of the song The Saints Are Coming by The Skids. The recording was a benefit for Music Rising, a charity founded by The Edge which aims to help rebuild the musical heart and culture of New Orleans by replacing instruments that were lost during Hurricane Katrina and Hurricane Rita. The band have released three 'Best of' collections: 'The Best of 1980-1990', 'The Best of 1990-2000', and 'U218 Singles' in 2006 which also featured the new song 'Windows In the Skies' .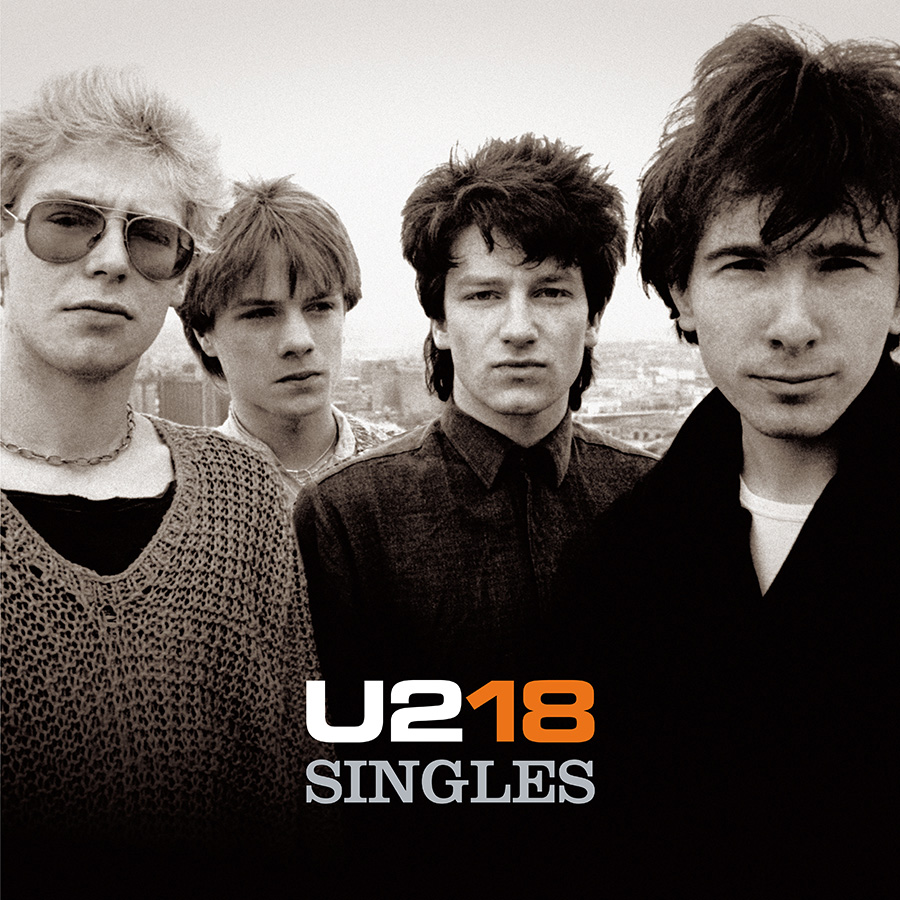 Five years after the release of How To Dismantle An Atomic Bomb, in March 2009 the band released No Line on the Horizon. Their 12th studio album was written and recorded in in Fez, Morocco, Dublin, Ireland, New York and Olympic Studios in London. The album calls on the production talents of long-time collaborators Brian Eno and Danny Lanois, with additional production by Steve Lillywhite.
Saludos a todos: Next Playlist - Coldplay